TRH RECAP 80: Fart Noise
KINGS 2, OILERS 4
Welp…
The LA Kings did what many people thought was impossible: Lost a meaningful game against the Edmonton Oilers.
But they didn't just lose… They essentially dropped a deuce right on center ice.
The Kings held their route to the playoffs in their own hands. Had they simply won their final three games they would clinch a playoff spot. Now, they need to defeat the Calgary Flames in regulation and hope that a bunch of other things go in their favor.
So, technically, the Kings aren't done yet. They have backed themselves into a corner and need a mini-miracle to get into the playoffs. Can they do it? Sure, why the hell not? I mean if they can't beat the Flames and San Jose Sharks then they don't deserve to get in the playoffs anyway.
But that doesn't change what happened last night. Besides Drew Doughty, the Kings looked absolutely over-matched against the Oilers.
THE OILERS!
Here's a quick highlight reel of the Kings performance:
At any rate, it looks like the season could be over. Still, it's not. There are two games left and the Kings still have a chance.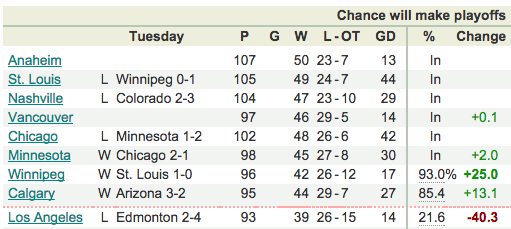 Per Quisp over at McSorley's Stick, all that needs to happen is…
LA beats Flames 4-1 Avs beat Jets 5-3 SJ beats LA 3-2 (shootout) Flames beat Jets 3-1 Kings, Flames make playoffs *puts down crack pipe*

— PumperNicholl (@PumperNicholl) April 8, 2015
But that seems impossible, right?
Kings' 2 "survival" games are against the teams that fired Darryl Sutter: Calgary and San Jose. DS would play if he could.

— Rich Hammond (@Rich_Hammond) April 8, 2015
I've given up trying to quantify "impossible" when it comes to this team.
3. Benoit Pouliot
Hmm… where have I seen that goal before?
Ah, yes, the Stanley Cup Fi…
*uncontrollable bawling*
2. Drew Doughty
Doughty rules.
1. Richard Bachman
Despite giving up that goal from center ice, Richard Bachman continued to frustrate the Kings.
For his career, Bachman is now 3-0-1 with a 1.04 GAA and a .968 SV%.
And he totally planned on giving up that goal to Doughty, too.
"I was just trying to get on TSN's top 10 misplays. I'm sure that will do it. Thankfully we won." Bachman joking about Doughty goal.

— Jason Gregor (@JasonGregor) April 8, 2015