TRH RECAP 67: ARE WE THERE YET?
KINGS 4, CANUCKS 0
I can honestly say that I haven't been as excited to watch an LA Kings' game as I was last night in a long time. The regular season, in any North American sport, is long. I have found, at least over the past two seasons, that I can break the Kings' regular season efforts into eight semi-distinctive phases.
Phase 1: OH GOD WHEN WILL HOCKEY BE BACK???
This phase usually starts for me right around the draft, and then lulls for a few weeks as I remember that real hockey won't be back for at least a few months, and that I can spend my time not watching the Dodgers instead, which is cool.
Phase 2: Let's Get Ready for Some Hockeying!
Phase 3: HAHAHAHAHAHAHA
Phase 4: Oh…
Phase 5: REMAIN CALM
Phase 6: THE HERO WE NEED
Phase 7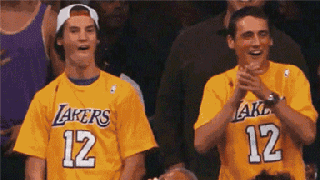 Phase 8: Are Playoff Beards Socially Acceptable?
HOCKEYING
As mentioned, the Kings played Vancouver last night. I sort of imagined Vancouver as some sort of flowery entity skipping through the poppy fields, all excited about the future and how somehow their team isn't sucking this year. If we can all get onboard with that imagery, then, what would the Kings be?
On the Kings' second powerplay of the game, the first having shown a powerplay prowess that all Kings' fans are familiar with, Justin Williams fired a pass across the ice to a sneak Tyler Toffoli, who somehow settled the puck AND shot it top-shelf for a nifty score.
Brayden McNabb showed extreme patience in getting Justin Williams the puck for an easy tap in. If you watched him long enough, even YOU Would have forgotten about the other five players on the ice wearing white uniforms.
Has anyone seen Derek Dorsett?
There he is.
I was at a (now) local bar last night called Residuals Tavern. There were a good amount of Kings' fans watching the game. During a post-game interview with Anze Kopitar, I heard someone say, "If you ever wanted to know what someone from Slovenia looked like, just look at the TV."
The Kings this season, it seems to me, have been awful at putting the puck in an empty net. It just never happens. But last night the Mad Slovenian lofted a pass to the streaking Marian Gaborik, who aggressively shot the puck into the empty net to put the game out of reach.
Shoutout to /r/LosAngelesKings, who lost their collective mind upon Gaborik's empty-netter
RANDOM CONNECTION OF THE NIGHT
When the game finished, the owner and bartender put on some music. For some reason, he chose The Afghan Whigs, which are awesome. I later found out that the music was being controlled by two very polite men at the end of the bar, one of which may or may not have had a face tattoo. Now, we know the connection that the Kings have with this bar (there's a Kings' flag out front!), but I'm going to take you a bit deeper.
That is Marian Gaborik helping a member of The Afghan Whigs (I really don't have the time to figure out if he's a member of the touring staff, a touring musician, or part of the actual band) drink something out of the Stanley Cup in Slovakia.
Beverage of the Game
I ordered a beer called "House Beer," and it was the most disgusting thing that I have ever consumed. This isn't a picture of it, but it did look similar. Several hours later, I feel fine, but I won't be making that mistake again.