PACIFIC WAR ROOM – 2.27.15
In an effort to keep Los Angeles Kings fans aware of the comings and goings of the other teams in the Smythe Pacific Division… we here at The Royal Half have created the Pacific War Room… a wrap-up of the past week in the Pacific from some of the best and brightest bloggers who cover Pacific Division teams. In order of the Pacific Division standings… we present the Pacific War Room for the week of February 27th, 2015!
ANAHEIM DUCKS
1st PLACE, 38-17-7, 83 POINTS
@EarlSleek
This past week, the Ducks played four games, two on the road in Alberta and two at home against Eastern Conference opponents.  Combining all four games, Anaheim took 34 first period shots and scored 1 goal.  Anaheim took 34 second period shots and scored 1 goal.  But then Anaheim took 40 third period shots and scored 9 goals.  Hooray for big thirds!
As such, the Ducks turned a 2-1 second intermission deficit in Calgary into a 6-3 win.  And a 1-1 second intermission tie in Edmonton into a 2-1 win.  And a 2-0 second intermission deficit against Detroit into a 4-3 shootout win.  And a 2-0 second intermission deficit against Ottawa into a 3-0 loss (!).  Well, I guess you can't flip 'em all.
John Gibson started all the games, as Freddie Andersen is still on the shelf and Ilya Bryzgalov's contract was mercifully terminated.  Sami Vatanen and Matt Beleskey are sidelined for a few weeks as well, so even if the Ducks don't make any real trades in the next couple of days, there is still a #1 goalie, a top power play defenseman, and a rental scoring forward that will get reinserted before playoffs.
And there was a real trade, even if it's for up-and-comers.  Devante Smith-Pelly was sent off to the Canadiens for Jiri Sekac.  I can't tell you too much about Sekac, other than his name backwards is "CAKES", and Habs fans seemed pretty pissed on Twitter that day, so let's go backward cakes!
Anyways, big game tonight, between two teams on win streaks interrupted by some dude named Hammond.  Let's recycle a classic.
VANCOUVER CANUCKS
2nd PLACE, 35-23-3, 73 POINTS
@PetBugs13 from Canucks Army
So I'm super late getting this in, and no it's not because I'm still trying to figure out the colour of that stupid dress. I mean, it's clearly the same colour as the Kings' uniforms, so what's the big deal?
And no, I'm not that shaken up by the Canucks' loss to the Sabres last night. I mean, they dominated on the shot attempts and just got unlucky on the last game of a long road trip. Sure, they gave up way too many quality chances, but have you looked at their defense lately?
However, what's got me worried is this sinking feeling that maybe we're reliving history. I mean, maybe time actually is a flat circle and OH MY GOD SO IS A PUCK:
So yeah, bear with me here as we take stroll through a hockey season in the not too distant past as the Vancouver Canucks stroll into the TD Garden to face the hated Bruins…
*doodlee-doo doodlee-doo doodlee-doo doodlee-dee*
The starting goalie has been the backup for most of the year. It's a hard fought game, won on a laser beam of a shot from the top of the circle in the third period.
The goal was scored by a young prospect, who wears No. 9, and has been vocal about getting the ice time he thinks he deserves. That being said, he appears to finally be playing up to potential heading into the trade deadline, based somewhat on getting to play much easier minutes than he had been previously.
*doodlee-doo doodlee-doo doodlee-doo doodlee-dee*
Sound familiar?
And if you remember what happened the first time around, you'll see why I'm starting to get a bit worried:
The hot young prospect gets dealt at the deadline for another project
The Canucks' season goes down hill the rest of the way, with talk about "flipping the switch"
Daniel Sedin gets an elbow to the head care of a two-time Norris winner
The Canucks face the Kings in the first round, with a goalie coming off an injury
Most of you now reading this at The Royal Half become hockey fans
Ugh. It's enough to make me give up blogging and start farming llamas.
Wow what another amazing week for the LA Kings!
Let's see, they beat the San Jose Sharks at the Stadium Series outdoor game in Santa Clara.
Dean Lombardi re-signed two-time Stanley Cup Champions Jordan Nolan and Kyle Clifford to cap-friendly deals.
They shutout the Red Wings 1-0 to extend their win streak to eight games.
Then they went out and acquired the most coveted defensman on the trade market.
Not a bad turn of events for the Kings!
And even though they were shutout by the Ottawa Senators last night, the Sharks and Canucks both managed to lose as well.
So even though they didn't make up any ground, they didn't lose any either.
CALGARY FLAMES
4th PLACE, 33-24-4, 70 POINTS
@BookOfLoob from Flames Nation
EDITOR'S NOTE: For some reason, Floob was unable to submit his blurb today so we'll just put this here:
CGY recalls Tyler Wotherspoon from ADK amid unconfirmed speculation Mark Giordano's injury may be serious (season ending?). For the record..

— Bob McKenzie (@TSNBobMcKenzie) February 27, 2015
FYI: #Flames Giordano missed 18 games last season. Team went 6-10-2 in his absence.

— Ryan Pike (@RyanNPike) February 27, 2015
Per Bob McKenzie, Giordano's season could be over. Hey Calgary, we have a MacDonald or Streit you can have!

— Timmy!_Philly! (@WeArePhillyFans) February 27, 2015
Giordano injured, season-ending? Brian Burke: Do the right thing, and bring Phaneuf home to Calgary, Alberta. Do it. #Flames #TMLtalk

— Matthew Wilson (@wilsonhimself) February 27, 2015
Boy I bet Tanking for McDavid looks pretty good now, Flames fans.
But no… really… that regular season success this year was TOTALLY worth it.
Guys I'm not really going to be on this much the next few days so if Torres eats a cadaver or Barclay Goodrow discovers uranium, @ me plz

— Hannan to Chicago (@stace_ofbase) February 27, 2015
EDITOR'S NOTE: Oh right, Stace is getting married so there is no War Room blurb from herWAIT A MINUTE?
I'm not at home, so can someone let me know who's running the Gio candlelight vigil in my stead please?

— Bread Frathwaite (@bookofloob) February 27, 2015
Saw a grungy dude with dreads sharing a tandem bike with a dude in a suit. California

— Bread Frathwaite (@bookofloob) February 26, 2015
FLOOB IS AT STACE'S WEDDING?!?
*cries for not receiving an invite*
*pumpernicholl searches the internet so we can crash it*
Losing a home game to the Bolts, followed by an 0-3 road trip to the Tri-State area leaves the Coyotes in a better position than they started this past week. The Yotes are now only one point back of the Oilers and four points back of the Sabres in the Tank For McEichel Sweepstakes.
Even though they lost all four contests this week, it wasn't due to lack of effort. Save for one period on Long Island, Arizona's hockey club played all their opponents close.
Best thing about #CoyotesTank is they're competing in most games. Can't wait for June 26th. #eighthstraightloss #McDavid #Eichel

— Tim Bogdansky (@timbogdansky) February 27, 2015
The only thing more consistent than the Yotes putting up a good effort lately, is how well ex-Oilers seem to be thriving in the desert.
@JSBMjeanshorts @Lowetide_ It just dawned on me that the 2 best multi-game performances of Coyotes' season belong to players EDM gave up on.

— Carl Putnam (@CarlPutnam) February 25, 2015
.@sporkabella has scored 17 goals in the @NHL – 5 of those in the last 13 days

— Dave Vest (@davest4yotes) February 27, 2015
Ex-Oilers keep coming up Millhouse for the Coyotes. Arco with tonight's 1st goal. Gagner with the 2nd

— Carl Putnam (@CarlPutnam) February 27, 2015
First, it was Devan Dubnyk, then it was everyone's favorite traveling forward Mark Arcobello, and then last night it was both Arco and Sam Gagner.
The other big story in Arizona was two llamas trying to escape from Sun City.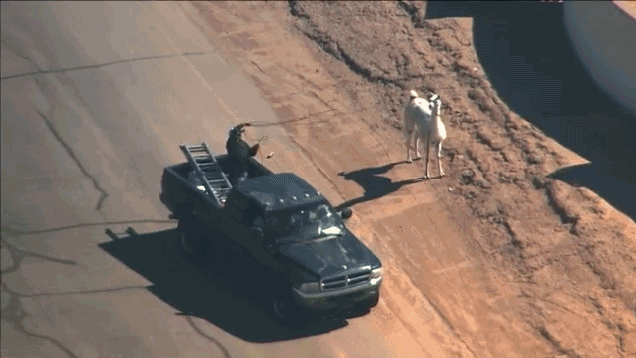 Can you really blame them? Would you want to spend your days surrounded by only old people who want to segregate themselves off from the rest of the world?
I have never rooted so hard against my own species as I did just now

— Chris Ziegler (@zpower) February 26, 2015
This guy clearly isn't a Coyotes fan. We've been rooting against our fellow humans since approximately 7:00pm MST on October 9th.
Buffalo wins. We lost. Perfect.

— Justin (@SputnikAZ) February 27, 2015
The Desert Dogs go for the ninth loss in a row in Boston on Saturday. Here's hoping they get, as well as the right ping pong ball on June 26th.
I'm starting to get that sinking feeling that while this is another lost season, and the Oilers are truly terrible once again, they aren't going to be QUITE terrible enough to match the futility of the Sabres or the Coyotes. I WANT A CONNOR MCDAVID NOOOOOOW!
On Thursday an old friend came back to visit the Oilers (you may have noticed this is a reoccurring trend)
#MissYouDuby pic.twitter.com/3ZfeT0oBKh

— Jeanshorts (@JSBMjeanshorts) February 21, 2015
The Oilers were without Jeff Petry for the night, due to taking a shot in the ribs a game earlier. And, oh boy, if this is what the Oilers are going to look like sans-Petry then maybe I DO have faith in their ability to lose all their games from here on out, because MY WORD, this game was a disaster. Once again the Oilers managed to get less than 20 shots on goal, the Wild had their way all over the ice, and literally the most entertaining thing of the night happened in the stands. Your eyes are NOT deceiving you. Frosted tips are still alive and well in Edmonton! #WelcomeToAlberta
(And, hey, you know what, the 15 other times someone tossed a jersey didn't do jack shit to make this team better FOR SOME REASON, so, like, maybe we just need to keep doing the same thing over and over again like a bunch of morons because you have to think that, like, ONE of these days it'll finally work, oh no wait it will never work stop throwing your jerseys you pieces of shit I want to throat punch all of you)
The next night, which was an official Alberta holiday
Happy birthday, Smytty! pic.twitter.com/q1QfWWFqwT

— Edmonton Oilers (@EdmontonOilers) February 21, 2015
the Ducks came into town and things went, eh………
#HereComeTheOilers https://t.co/0hZgwyYr9i

— Hannan to Chicago (@stace_ofbase) February 22, 2015
About as well as you would have expected, really.
Finally it was ANOTHER game against the Wild, because Oiler fans are still repaying the hockey gods for all that excess in the 80s.
If I only take one thing away from that game it will be my favorite moment on a hockey broadcast ever.
— Jeanshorts (@JSBMjeanshorts) February 25, 2015
God love you Gene, you are an icon!
As usual the Wild brought their brand of high octane, entertaining hockey to the rink.
"Shots favour the Oilers 3 to 1" We are 10 minutes in………… #GordHelpUsAll

— Jeanshorts (@JSBMjeanshorts) February 25, 2015
Benoit Pouliot was out there looking like a young Marc-Antione Pouliot, Kevin Lowe was up to more nefarious things
RRRIIIIIIIIGGGGGGGEEEEDDDDDD pic.twitter.com/AQclR2ab77

— Jeanshorts (@JSBMjeanshorts) February 25, 2015
And we learned that either playing for the Edmonton Oilers is incredibly detrimental to your health and well being, or Oscar Klefbom has that disease from the movie Jack.
— Jeanshorts (@JSBMjeanshorts) February 25, 2015
Being 62 games into the season means we're only 20 games away from me being FREEEEEEE of Oilers hockey for another six months. I CAN'T WAIT!
TRH WILD CARD WATCH™

BEST OF PACIFIC WAR ROOM CLARKSON TWEETS:
"But Clarkson was traded" is now the proper response whenever somebody says that your HF Boards trade proposal is ludicrous and impossible.

— Earl Sleek (@earlsleek) February 26, 2015
"Even a blind squirrell finds a nut every once in awhile" may never be more apt.

— petbugs (@petbugs13) February 26, 2015
*unrolls biblical scroll* "…only when the two llamas are captured will the Maple Leafs be free of the Clarkson Curse…"

— PumperNicholl (@PumperNicholl) February 26, 2015
Pretty sure the last time the Toronto Maple Leafs had a Horton in their lineup they won the Stanley Cup.

— The Royal Half (@theroyalhalf) February 26, 2015
Engelland for Pronger

— Bread Frathwaite (@bookofloob) February 26, 2015
I hope Clarkson is the Columbus player Los Angeles acquires at the deadline. Delicious.

— Hannan to Chicago (@stace_ofbase) February 26, 2015
Of course, saying David Clarkson needs to get away from media pressure implies that there was media pressure to begin with.

— Brendan Porter (@brendanporter) February 27, 2015
Llamas and dresses and David Clarkson. Twitter is a 14 year old Torontonian girl's diary today

— Jeanshorts (@JSBMjeanshorts) February 27, 2015
Thanks to all the amazing Pacific Division Bloggers. Check back next Friday for another edition of Pacific War Room! You can check out past editions of Pacific War Room here!