TRH GAMEDAY 41: NY RANGERS – POP-UP VIDEO
Sure, we could sit here and just make an entire GAMEDAY PREVIEW that is links to our amazing posts that filled your timeline during early June of last year… but instead we thought tonight we mightOH NO HERE COME THE TEARS AGAIN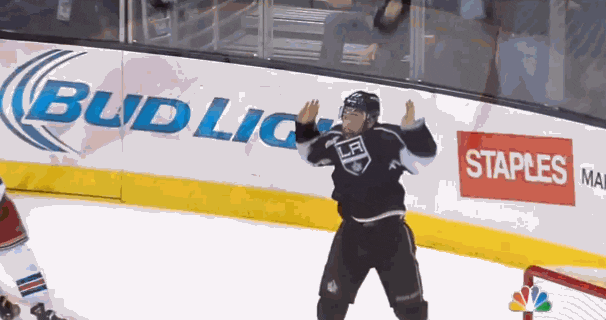 So instead of dwelling on the LA Kings winning their 2nd Stanley Cup in 3 years… instead we are going to focus on the future… and this really great thing that the people at Fox Sports West and our own #TeamTRH Ombudsman, Jack A. Wilson put together for local youth hockey in Southern California.
A surprise authentic game experience for @JrKingsHockey & Jr. Ducks from the @LAKings, @AnaheimDucks & @FoxSportsWest pic.twitter.com/td0AUOdDbP

— Toyota Sports Center (@ToyotaSportsCtr) December 21, 2014
A few weeks ago, on December 21st, an innocent mid-season matchup between the the AAA U-18 Junior Kings and Junior Ducks… turned into an amazing spectacle.
Awesome.
And we finally got our chance to see Selanne play in the uniform he always wanted to be in.
Check out a recap of the event here. And photos here.
Make sure you watch a brand-new Kings Weekly after the game tonight on Fox Sports West. So you can give these hockey playing kids the national TV audience they deserve!
TRH TENDER SWIPE TO VICTORY MATCHUP™
BEST OPPOSITION BLOGS:
BEST OPPOSITION TO FOLLOW ON TWITTER:
WORST OPPOSITION TO FOLLOW ON TWITTER: