Kings of Kansas City
Veteran journeyman Reggie Sanders smacked a grand slam on the Midwestern spring afternoon, and the Royals took a commanding lead over the Oakland Athletics. Jeremy Affeldt, who was one of few bright spots in an otherwise awful Royals rotation, effortlessly mowed through batters. This game would go down as a blowout win for the Royals, a term usually used to describe the Royals in a losing effort. The team lost 106 games the previous season, and the sparse Saturday evening crowd took any glimpse of hope they could find to enjoy themselves.
Then the rains came.
The game went to a delay before the fifth inning, and was eventually called due to rain. None of what happened that night ended up in the record book. The Royals would go on to lose another 100 games during that 2006 season. Then 93 the next season. 87 the season after that – some hope! Then 97 the next year. Then 95. And so on and so on, last place into infinity.
I remember that game, and the many other games I had an opportunity to attend over that course of time. I remember watching it from the twelfth row, though my tickets were in Row DD in the upper deck. I remember Matt Stairs strikeouts, Zack Greinke's brief retirement, and Jose Guillen outbursts.
I vaguely remember this gif, though blocked it out of my memory for a period of time.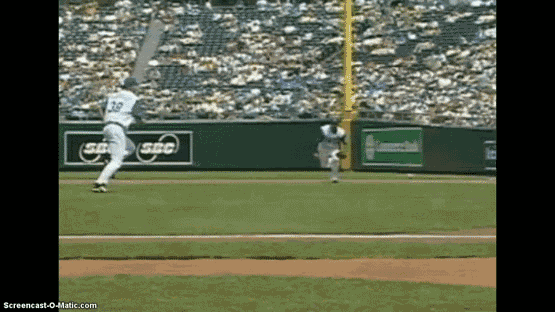 All Royals fans remember at least ten, twenty, or thirty moments from the past 29 years they would like to forget.
At the same time, as a Kings fan, I would sit in my room 1,600 miles away and listen to games streamed online, all the while pretending Jason LaBarbera or Dan Cloutier were going to lead this team back to the playoffs. I convinced myself the Tom Pressing and Ladislav Nagy signings did not seem that desperate. That this – wait, how do you say it? Anz…An-say…Un-jay…An-zhe…yeah, that's it –Anze Kopitar might turn out to be okay. But, until then, we might as well hang some curtains in this cellar while we're here. Last place again. And again, and again.
Anze Kopitar playing in the 2005-2006 pre-season.
Fast forward to 2014, only about seven or eight years removed from a dark era in each of these franchise's histories. The darkest time in Royals history.
In December 2011, the Kings were in the midst of a four game losing streak that cost coach Terry Murray his job. The team with so much potential expected more than a .500 record. In steps Darryl Sutter, who oversaw another four game losing streak in February that cost the Kings a playoff spot. The bandwagon was abandoned, and it was inching closer to falling over the cliff to a fiery end. Another rebuild on the horizon?
Yes, that Darryl Sutter, the man known for his funny faces, mumbling interviews, and never quite getting over the hump. With great teams in San Jose he never got out of the second round.   Last seen taking Calgary to the Final – where he would lose – and now he's giving it one more go with his fourth team. This, likely, would be Sutter's last chance.
Speaking of last chances, the Royals certainly took a chance hiring Ned Yost in 2010, a year and half after his dismissal in Milwaukee in the middle of a playoff run. Yost's antics as Royals manager are well documented, and his seat got hotter and hotter as the Royals struggled early this year.
The Yost led Royals suffered a loss on July 21st – the fourth in a row – to put them two games below .500 and eight games out of first place. They would need the help of a 24-6 stretch after that game to become a legitimate contender again. Yost, and the Royals, did this by primarily relying on young, homegrown players like Mike Moustakas, Eric Hosmer, Alex Gordon, Billy Butler, Sal Perez, Kelvin Herrera, Greg Holland, Yordano Ventura, and Danny Duffy, each of whom struggled at some point during the season.
Sutter's success came by placing homegrown, young players with high potential like Doughty, Brown, and Kopitar in positions of leadership where they could excel. Other Kings draft picks like Lewis, Clifford, Voynov, King, Nolan and Martinez became useful role players. The Kings could roll four lines almost evenly, and matchup with every opponent's line combinations with Sutter's system. And Jonathan Quick proved to be the goalie he had shown flashes of being over the past few seasons, with Jonathan Bernier stepping in and picking up key wins down the stretch, as well. The Kings would, in the last few days of the regular season, make it to the playoffs.
That's where the comparisons of these two teams get fascinating.
As an unlikely eighth seed, The Kings won their first Cup going 16-4 in the playoffs, sweeping the second series, and losing three of the four games at home. Unheard of in the NHL's salary cap, high parity era.
Not one player did it all, either. Jarret Stoll and Dustin Penner's series clinching goals. Dustin Brown's goal in Game 4 against the Blues. Anze Kopitar and Jeff Carter's Stanley Cup OT goals. Drew Doughty cutting up the New Jersey defense in Game 2. The Kings relied on goalie Jonathan Quick's three shutouts, 1.41 GAA, and .946 save percentage.
2.29 goals per game in the regular season jumped to 2.85 in the playoffs. The team that couldn't score in the regular season all of a sudden couldn't miss.
On the other hand, the Royals made the playoffs as the primary wild card team, struggling to division rival – and the much more offensively powerful Detroit Tigers. Currently, the Royals are ten and one in the playoffs, losing the only game at home, sweeping their second opponent – as well as their third (and first, technically).
And, again, unlikely sources all around. Sal Perez's double to win the wild card game, after newly drafted Brandon Finnegan's solid innings of work – just months after pitching in the College World Series. Moustakas and Hosmer's game winning homeruns. The Herrera-Davis-Holland combo. Omar Infante's Game 2 homerun. Despite the troubles of ace James Shields, closer Greg Holland has tied a postseason record with seven saves, and starters Jason Vargas and Ventura have pitched well enough to give the game over to the dominate bullpen.
In June, Brandon Finnegan was in the College World Series. Friday, he was huge in the big one. http://t.co/Yqg0GbqjKo pic.twitter.com/V6qG1EMlz2

— Jesse Spector (@jessespector) October 25, 2014
The Royals hit 95 homeruns in 162 regular season games, good for last in the league. Compare that to the 10 homeruns they have hit in 11 postseason games.
For Royals fans, this experience has been much like the Kings winning their first championship. 29 years is a long time, longer than many Royals fans have been alive. Most of us – full disclosure, myself included – only know a world in which the Royals are a joke.
For 44 years, Kings fans only knew the Kings as a thrilling frustration. A successful franchise, but never the best. It is Los Angeles, after all, and this is hockey we're talking about. So, for Kings fans, the first Cup run had to feel like something of a relief. After the first two series – even despite the years and years of horrible disappointment –the Cup felt like a foregone conclusion; no one can stop us this time. A fitting payoff for the past 44 years.
And now it's the same for the Royals. The 1985 Royals team, most locals will tell you, was not even the best Royals team of that era. Maybe the '76, '77, or '78 teams that could never quite beat the Yankees, or the 1980 team that finally did, but lost the World Series. Now, after 29 years, "not the best Royals team" has a chance to win again.
"Unbelievable" is a term tossed around in sports way too much. It has nothing to do with believability. "Dream sequence" seems more appropriate. The Kings could not lose in 2012. How, after 44 years of struggle, was it this easy?
After attending the first playoff game for the Royals since 1985, the wild card game against Oakland – easily the most exciting, thrilling, amazing sporting event I have ever attended in person – I tweeted this:
Can this just be the World Series?

— Flubber McGee (@FlubberMcGee) October 1, 2014
Everything since that game has suffered of anti-climax. The Royals are playing with house money, given little to no chance before the playoffs, and given almost zero chance of winning halfway through the wild card game. I would be joking if I told you I thought the Royals had a chance against Angels. But, after that series, they have to win it all. They just have to. Not because a majority of the past 29 years have been embarrassing for the city, team, and fans of both. No, this time it will be in spite of the past 29 years.
You may not care about the Royals, or baseball, and wonder what the hell this has to do with hockey on a Kings site mostly devoted to recapping the profanity-laced thoughts of Twitter users and ranking dog breeds (#TeamArnold). Well, simply put, the Kings made the blueprint on how to reward the loyalty of their fans. History is how you interpret it, and 44 years of frustration meant that frustration had to end at some point. And it did, gloriously. 44 years of "southern hockey" jabs turns into a sense of civic pride in a successful team. Los Angeles becomes Hockeytown USA overnight, after being scoffed at by "true" hockey markets for so long.
And that's what Royals fans clung to for 29 years. This team will embarrass you, and frustrate you, and disappoint you, and anger you, but one day this team will reward your loyalty. They have to, because you believe they will. And, Royals fans, it may sound unbelievable, but with two more wins the dream can become a reality.
Let's go Royals!