PACIFIC WAR ROOM – 3.7.14
In an effort to keep Los Angeles Kings fans aware of the comings and goings of the other teams in the Smythe Pacific Division… we here at The Royal Half have created the Pacific War Room… a wrap-up of the past week in the Pacific from some of the best and brightest bloggers who cover Pacific Division teams. In order of current Pacific Division standings… we present Pacific War Room for the week of March 7th, 2014.
ANAHEIM DUCKS
1st PLACE, 43-14-6, 92 POINTS
@EarlSleek
It's time to talk once again about the St. Louis Blues' inability to play against teams from California, and as I've now noticed, all teams from the Pacific Time Zone.
Last Friday, the Ducks hosted the Blues; it was Anaheim's first game after the Olympic break, and they channeled the spirit of Team Switzerland, giving Jonas Hiller exactly one goal of support.  Fortunately, that was enough – Hiller has won himself 5 games this season with a 1-0 final score, twice with the Swiss and three times with the Ducks.
This gave the Ducks three wins in three tries against St. Louis this season, a feat matched by the Sharks, Canucks, and nearly the Kings.  Against opponents not from the Pacific Time Zone, St. Louis is an astonishingly good 41-4-5, outscoring opponents by more than a goal a game.  Against teams from the Pacific Time Zone, the Blues are an amazingly bad 1-10-1, getting outscored by more than a goal a game.
2013-14 St. Louis Blues vs. The Pacific Time Zone
And it's not really the travel or time difference – 7 of those 12 games against the Ducks, Kings, Sharks, and Canucks were played in St. Louis.  Semi-recycled Sleektoon, now with a new addition! :)
On Sunday, the Ducks hosted the Carolina Hurricanes and scored the game's first five goals before letting the Canes score some pity goals and gain some confidence for their next game in San Jose.  Then on Wednesday, after the Canadiens beat the Ducks in placing the only bid for Thomas Vanek, they also beat them in a shootout.  Weirdly, that was Anaheim's first shootout participation in nearly three months, but I didn't miss the gimmick one bit.
Last ever PANCAKE WATCH!  Bye bye, Dustin Penner!  32 points in 49 GP, and a plus-22, then flipped to Washington for a pick that was flipped to Dallas for Stephan Robidas.  While that's not the trade deadline splash some were expecting from Anaheim, I'm cool with it.  Ducks certainly have the winger depth to fill Penner's role – they were scratching two wingers a night and Emerson Etem was stuck in the AHL.  Robidas will provide some more veteran minutes on the blueline, and the Ducks' picks-and-prospects cupboard is still loaded for the future.
But yeah, Anaheim's Twitter game just dropped about a thousand percent.
.@BarackObama hey i know this is last minute & I hate asking on such short notice but can I crash for a few days? I'm great with kids

— Dustin Penner (@Dustinpenner25) March 4, 2014
SAN JOSE SHARKS
2nd PLACE, 40-17-7, 87 POINTS
@FearTheFin from Fear the Fin
San Jose's bizarro season against the East continued this past week as the team's strange habit of losing to the weaker conference's bottom-feeders while rising to the challenge of its handful of true contenders kept on keepin' on. First there was an embarrassing 4-2 loss to Buffalo last Friday on the night Ryan Miller and Steve Ott were banished from one decrepit hellhole of an NHL city to another, followed up by an overtime loss on home ice to the 7th-place-in-hockey's-worst-division Carolina Hurricanes on Tuesday.
But all of that seems like a distant, forgivable-and-forgettable memory thanks to what went down in the Bay Area last night. If you needed more proof the best hockey is played on the west coast, look no further than the Sharks' 5-3 win over Pittsburgh last night that featured just about anything you could want in a hockey game. Tons of goals, lead changes, star power, individual efforts, physicality, Sidney Crosby getting repeatedly clowned for goals against…it had everything, including one of the home team's most inspired wins yet.
Of course, the real highlight of the week was the blockbuster trade the Sharks pulled off with Pacific Division rival Los Angeles on deadline day, sending James Livingston to the Kings for an all-valuable conditional 2016 7th rounder.
Finally, I just want to add that despite what the rest of you think, the Canucks are still the class of the Pacific Division.
PumperNicholl and I just landed in Edmonton where we were immediately greeted by the bright, shiny smiles of…
… the greatest airport ever.
Seriously.
So I'm writing this Pacific War Room entry embedded in a hotel that I was told Lil Wayne once stayed in! But that wasn't as impressive when I found it it wasn't little Wayne Gretzky.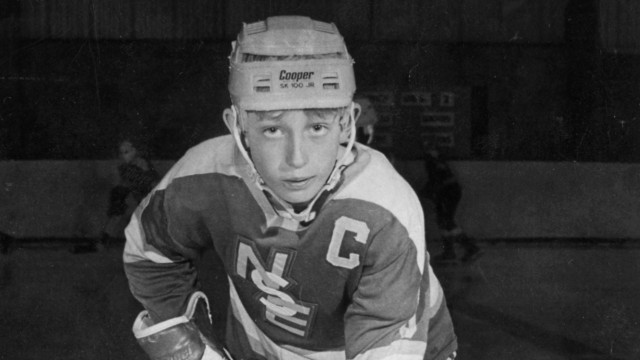 Tha Gretzky.
So we'll be hanging out all weekend in Edmonton checking out the sights and sounds and then watching our beloved LA Kings play the Oilers on Sunday night at Rexall. You are familiar with the LA Kings, right? The team that has won 6 straight and recently acquired Marian Gaborik? It's so exciting to be a Kings fan right now… you just want to dance.
Or even eat carbs!
Or just high-five a stranger!
Phoenix's hockey club basically met expectations this past week. On Friday, the Coyotes played the second game of a Winnipeg/Colorado back to back. The game was as terrible as one would expect given the travel after playing an OT game.
On Sunday, the Coyotes welcomed the Blues to town. Ryan Miller's first goal allowed as a Blue was by…Paul Bissonnette. We'll just ignore the two direction changes the puck made on its way to Miller. Then another unlikely goal scorer potted one on the newest Blue.
Not for nothing, but how about Jeff Halpern scoring on a night when they had yarmulke pick-up outside the arena? #IsItPurimYet

— Jesse Spector (@jessespector) March 3, 2014
Eventually the Blues woke up in the 3rd stanza, remembered they were one of the best teams in the league, and proceeded to curb stomp the Yotes in front of their home fans.
The Coyotes turned things around on Tuesday night with a masterful defensive performance against the Canucks and followed it up with an offensive explosion against the Habs last night. In the interim, the Valley's NHL franchise picked up the Erat family in a trade.
The Desert Dogs take their two game winning streak on the road starting this Saturday. The trip begins against Erat's former team, The Adam Oates' Dumpster Fires.
I could add more about the Coyotes, but I know you all really clicked on this post so you could read about another roaring blaze which stretches from the Canadian Rockies to the Pacific Ocean.
I see Oilers trotting out Gretzky to make apologies for everyone and it's the biggest pile of shit to hit Rexall since the rodeo was there

— Dennis King (@DKingBH) March 7, 2014
Funny, since Gretzky hasn't apologized to Coyotes fans for the similar dung heap he left here in the desert.
Enjoy more anguish below.
VANCOUVER CANUCKS
5th PLACE, 28-27-10, 66 POINTS
@PetBugs13 from Canucks Army
This week went something like this:
"If this isn't rock bottom I don't know what is…" Kevin Bieksa

— Dan Murphy (@sportsnetmurph) March 7, 2014
Don't worry, Kevin. You guys didn't hit rock bottom. You landed on the Oilers, Flames and Sabres.
I would call this team a garbage fire, but…
CALGARY FLAMES
6th PLACE, 24-31-7, 55 POINTS
@BookOfLoob from Flames Nation
Half likes to remind us Pac War contributors around midweek to have our submissions into him, which is hilarious because it's the eleventh hour on Friday and I'm only just writing this now, but it's a thing he does. This is what he wrote this time around:
Well let me just say this, Mr. Big Shot Los Angeles blogger with your soy lattes and botox thumb injections and your Catherine Zeta-Jones sightings, if Calgary did nothing to improve it's roster at the deadline, how come this malignant growth is no longer found anywhere on the makeup of the Flames:
Victory!
Yes, my season long nightmare has finally faded into the ether and Reto Berra, alleged goalie, is now the plague that the Colorado Avalanche (and more like the Lake Erie Monsters) have to contend with.
To which I say GOOD RIDDANCE, CHUMP! Maybe you figured out the whole "the angles in the NHL are different than the ones on Olympic sized ice in Europe" conundrum, which the average goalie would have nailed down when they were 12, but your spastic "Hasek without the results" style of goaltending has no place in this city, league, or decade.
Sure you made a handful of memorable highlight reel saves this season, but if you were in position in the first place, well, yeah I guess strong technical goaltending just isn't as fan friendly, is it?
That and Reto just refused to pay attention to my ideas on how he could improve his glove hand:
whatever man, we don't need you anymore.
With Berra shuttled out of town, and Karri Ramo days away from returning to action, this team is now Joni Ortio's. This week anyway. My dream of having the Flames ice a tandem of Ramo and Ortio is a reality. I call them Ramortio, and it is the Finnish Hellbeast that battlers Cthulu for all eternity.  Also it stops pucks.
Ortio, in limited action this week, did what no goalie in Flames history has ever been able to accomplish: win a game in the god awful third jerseys:
Look at that strong positional goaltending. Suck it, Berra.
Ortio stopped 30 shots in a 4-1 drubbing of the hilariously "revamped" Ottawa Senators, in the same game where Flames forward Markus Granlund scored his first career goal, highlighting that the Flames prospects are not as funny and shallow as you cynical assholes all assert they are.
We'll show you all.
In closing, I was watching the Flames and Sens, which happened to be Ales Hemsky's Ottawa debut. At one point he managed to slam himself into the Saddledome glass, with no provocation from any Flames skater on the ice. It's just nice to see that Hemmer's instincts are still sharp enough that he can get his ass kicked in Calgary whether Robyn Regehr is in the building or not.
(Robyn Regehr was not in the building. He plays for something called the Los Angeles Kings. Allegedly.)
See you in Hell, Reto Berra (I'm assuming you end up on the Sabres eventually)
EDMONTON OILERS
7th PLACE, 22-34-8, 52 POINTS
@JSBMrevolution
Looks like the Oilers might start living life *puts on sunglasses* in the Fasth lane #YYYEEEEEAAAAHHHHHHHHH

— Jeanshorts (@JSBMrevolution) March 4, 2014
Nick Schultz? GONE.
Bryz? GOD SPEED MOON MAN!
Hemsky? You weren't always my favourite player, but you were a warrior and you will always be an Oiler. AND YOU WILL LIVE ON FOREVER IN OUR HEARTS!! Treat him well Ottawa. We know where you live….
Hemsky pic.twitter.com/7GuqhiFPSp

— @sshole In Charge (@heavyoilcountry) March 5, 2014
Smyth > Gretzky
AND the Oilers are winning games! (Against other bottom of the barrel teams)
There is pretty much nothing that could make this week better!
Well, maybe one thing….
*New desktop background* pic.twitter.com/kYEw4AeBOc

— Jeanshorts (@JSBMrevolution) March 7, 2014
TRH WILD CARD WATCH™
there are only going to be 5 teams in the western conference playoffs, I hear: LA, SJ, Chicago, Anaheim, and the poop-throwers in St Louis

— Anthrax Jones (@AnthraxJones) March 7, 2014
Sounds about right to us.
Thanks to all the amazing Pacific Division Bloggers. Check back next Friday for another edition of Pacific War Room!  Also, be sure to check out the DemocraThree, the Central Division's answer to the Pacific War Room.
You can check out past editions of Pacific War Room here!