PACIFIC WAR ROOM – 2.8.14
In an effort to keep Los Angeles Kings fans aware of the comings and goings of the other teams in the Smythe Pacific Division… we here at The Royal Half have created the Pacific War Room… a wrap-up of the past week in the Pacific from some of the best and brightest bloggers who cover Pacific Division teams. In order of current Pacific Division standings… we present Pacific War Room for the week of February 8th, 2014.
ANAHEIM DUCKS
1st PLACE, 41-14-5, 87 POINTS
@EarlSleek
Oh man, the Ducks are mentally in Sochi already.  Anaheim started last week with three straight home games, which used to be a good thing, but then they dropped all three in regulation and only scored two goals.  Before the outdoor game, the Ducks were 21-1-2 at Honda Center, but since then they're 1-4-0 at home, getting shut out twice – they caught a severe case of Kings Disease at Dodgers Stadium, apparently.
Fortunately, the Ducks were able to close out their pre-Olympic schedule with a win in Nashville before sending seven players off to Sochi, including Cam America (and yes, the Ducks are dorks).  Here's the Sleektoon recap of last week – three teams feasting on a Duck who's already dreaming of Sochi.  I had to draw two predator sketches for this cartoon depending on how the Ducks' last game went – here's the less-hungry version.  :)
And a bonus Sleektoon heads-up.  I've been assisting David Wilson, Stars blogger at Defending Big D and contributor to III Communication's DemocraThree (the blatant ripoff of this feature), with a collaborative Sleektoon project for their next update, which either publishes today or tomorrow.  He did all the work on the forthcoming toon, I just supplied some old material to get him started.  Here's the link to DemocraThree's archives page; their pre-Sochi update and the new toon should show up soon if not there already.
So yeah, the Ducks are getting eaten lately, but at least they're struggling at the same time as the rest of the Pacific Division – it's divisional peer pressure!  Here's a month-by-month breakdown of the 7 teams in the Pacific Division.  2014 has been much more brutal on the division when it comes to wins, goal differential, and not getting shut out.
 Pacific Division by Month
PANCAKE WATCH!  Two assists for Dustin Penner this week.  This season for the Ducks, Penner has scored 13 goals on 98 shots.  Last season for the Kings (including playoffs), Penner scored 5 goals on 96 shots.  Hooray for PDO!  Enjoy the break, big guy!
If food choices had anything to do with it I'd be the most decorated Olympian in history.

— Dustin Penner (@Dustinpenner25) February 9, 2014
SAN JOSE SHARKS
2nd PLACE, 37-16-6, 80 POINTS
@FearTheFin from Fear the Fin
Only the Sharks could follow up losses to Edmonton and Calgary with a thrilling shootout win over the defending Stanley Cup Champions, but that's how this past week in San Jose hockey began, as the Sharks kicked off a pre-Sochi four-game homestand by beating the Chicago Blackhawks for the second time in three meetings this season. The four games were a fitting Olympic break send-off for a team that's looked unbeatable on some nights this season and listless on others.
Those dizzying highs and terrifying lows were encapsulated, respectively, by Joe Thornton going all Pavel Datsyuk to win that shootout against Chicago and the Sharks collectively dropping a turd in a 5-2 loss to Philadelphia that ranks among their worst performances all year. The creamy middle was probably a 2-1 overtime win against Dallas that was exciting in its own right, what with Marty Havlat not only making it through a game without his pelvic floor collapsing but contributing a goal and an assist as well. All told, at the Olympic break, the Sharks have a 12-point lead on the Kings in the race for home-ice advantage in that inevitable first-round playoff series which is good enough for me.
In a week where everything that could have gone wrong… did go wrong… there is only one thing in the world that could put a smile on LA Kings fans faces heading into the Olympic Break.
After Tortorella was suspended, Canucks are 2-8 in last 10 games with 7-game losing streak. #Problem

— Hyeon-Seop Lee (@Dnkurt) February 10, 2014
No… but that's really close.
Really thought we were gonna lose Bob Miller on this one.
Robyn Regehr was so surprised that he scored a game-winning goal in overtime that he forgot how to celebrate.
Robyn Regher really knows how to celebrate a goal: http://t.co/RbAr9IpzyV

— Brian McCarthy (@brianmccarthy1) February 7, 2014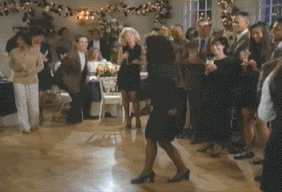 The Desert Dogs continue to be maddeningly, consistently inconsistent. They go out and beat top teams in both conferences and then lose to mediocre/poor teams. Below is a look at Coyotes fan's reactions during the team's run through the first 58 games of the season.
This past week was no different. The one constant was the play of Mike Smith. In 4 games played from last Saturday to last night, the Olympic netminder had a .960 save percentage. Meanwhile, his teammates averaged 1.75 goals a game during the stretch. Take away Radim's Vrbata's 3 goals and the rest of the team averaged a goal per game.
Phoenix started the week with possibly their best defensive performance of the season. They shut down the hire powered Penguins offense and worked hard to screen Marc-Andre Fleury and were rewarded with a 3-1 win.
OEL should get tonight's 1st star for how he's played against Crosby & his linemates if this game continues as is.

— Carl Putnam (@CarlPutnam) February 2, 2014
Seven days later the team hosted ten members of the 1980 U.S. Olympic men's hockey team and the players looked inspired. They shut out the defending Cup champs and jumped back into a playoff berth.
Blackhawks went 126 games without a shutout – then Mike Smith and the Coyotes accomplished the feat tonight

— Jody Jackson (@Jody_Jackson) February 8, 2014
The last 10 shutouts vs #Blackhawks have been by goalies headed to Sochi (3 of last 6 have been Mike Smith) pic.twitter.com/TFYtAU4NMV

— Christopher Kamka (@ckamka) February 8, 2014
The Desert Dogs have always played close, tight games with the Dallas Stars since their former coach arrived in the Valley. While both games the two teams played this week were close score wise, the boys from Texas dominated the guys from the Valley of the Sun everywhere else. The Stars outshot the Coyotes by 17 shots in the two contests. By losing both games Phoenix allowed the Stars to creep back into the playoff chase instead of putting them 4 games back of 8th place.
Finally, a tip of the cap to Phil Kessel for his excellent work last night against the only thing from British Columbia to be more overrated than Robin Thicke.
Never Forget!
Speaking of the Kessel clan, since you won't have any War Room reading for the next 2-3 weeks, make sure to watch them on TV while the video below plays in the background on a loop.
PHIL!!! pic.twitter.com/H0G7qrdSNw

— Jon (@YakovMironov) February 9, 2014
VANCOUVER CANUCKS
5th PLACE, 27-24-9, 63 POINTS
@PetBugs13 from Canucks Army
Thank God for the Olympic break:
I stand by my prediction from last week. At least they won't hit 11 losses in February.
CALGARY FLAMES
6th PLACE, 22-29-7, 51 POINTS
@BookOfLoob from Flames Nation
Remember how the Flames had won 5 in a row? Remember how they were keeping the Pacific Division afloat, despite being one of the two landlocked teams somehow in the Pacific Division? Remember?
Well, uh…about that:
So it's apparently easy to knock off the Hawks and the Sharks (and the Kings), but then how about a Canadiens team playing their worst hockey in a 103 year history?
So that was the end of that. 21 goals over a 5 game span against what are some pretty stingy defenses and somehow the team with Douglas Murray and 12 minutes of Dale Weise were too much to overcome, and it's back to the ol' being shut out corral.
Sure they beat the Islanders after that, but everyone beats the Islanders:
Have you seen Nassau Coliseum? Nassau Coliseum beat the Islanders. Brooklyn beat the Islanders. The Islanders have lost. Bob Nystrom is not here anymore.
And then they rounded off the end of the pre-Olympic season with a setback to the Flyers, who I guess are kind of okay now, so we're less not okay with that. Wins are nice though. We got spoiled. We liked the wins. Remember wins? No, of course you don't, you're all Kings fans.
The big news this week was the cruel jokesters out there in the media who got our hopes up and then broke our hearts.
We were told that, with Swedish forward and resident Vancouver Wahmbassador Henrik Sedin nursing an injured shitty broken hockey player, there was a possibility that Flames dynamic, young, handsome, virile, girthy magnan…hmmm, oh, right, sorry. Mikael Backlund would be the center of note getting the call.
Flames fans are used to not being able to have nice things so at first we didn't believe it:
But then people in the media seemed to be backing it up and we got a bit excited:
But we know better: we're Flames fans.
BUT THEN THEY SAID IT WAS REAL! AND WE BELIEVED IT!
We probably shouldn't have believed it.
I haven't heard anything about Olympics. I haven't got the call to from Pär Mårts. No replacement is official yet!

— Mikael Backlund (@mbacklund11) February 6, 2014
Quick reminder that currently the only two members of your Calgary Flames selected to be representing their countries in Sochi are objectively the two worst players on the team in Reto Berra and Ladislav Smid because hockey is fair and makes sense and the Olympics are about the pinnacle of sport where only the top athletes are allowed to compete.
Would Mikael Backlund be joining his top level teammates in that next level event?
#Flames' Mikael Backlund will NOT be heading to the Olympics – Caps' Marcus Johansson officially named to Team Sweden.

— Sportsnet 960 (@Sportsnet960) February 7, 2014
If you can tell me which Johansson Marcus Johansson is without googling it, I will make sure you get included in a future Kings Men Podcast, and they'll gladly take you too, they're getting mighty sick of the Mayor John Hoven. Probably.
So it was a week of crushing losses all around, and why we as the Flames faithful have lost all our faith in everything.
There's always next year. I'll leave the last word to our good friends and enemies over at renowned Oilers Blog Copper And Blue, who know a thing or two about the subkect of always next year:
Remember the playoffs?

— Copper & Blue (@CopperandBlue) February 6, 2014
EDMONTON OILERS
7th PLACE, 20-33-7, 47 POINTS
@JSBMrevolution
It's been a real upside down week gang. Since we last left our Heroes something completely unexplainable has happened; the Oilers are winning games WITH REGULARITY! After running roughshod over the Predators, Canucks and Sharks, the Oilers were riding a season high three game win streak. As I've explained before they were then required to suffer a management mandated embarrassing loss as to not raise suspicions that the Oilers are actually a competitive hockey team. AND THEN THEY WENT AHEAD AND PILLAGED NEW YORK STATE! That's 5 wins in their last 7 games. Way to start winning when it really matters fellas!!
After watching Ben Scrivens go supernova against the Sharks, the much-maligned Nail "NNNNAAAAIIIIIIIIIYYYYYYEEEEERRRRRRRRR" Yakupov took it upon himself to go cosmonaut, firing off a laser beam that narrowly missed taking the life of Cam Talbot.
Things didn't work out QUITE so well in Jersey the next night, but it's like that old saying, if you go to New Jersey you're gonna have a bad time. They did get a loser point, giving them 11 out of a possible 14 points in their last 7 games. They've been on such a tear lately they are now *looks at standings* only 4 points out of 13th! If they keep this pace up they may even finish the season with 25 wins!!!!!! *Puts champagne on ice*
And now we come to my favorite part of the season: not having to do one of these for 3 weeks!! PEACE OUT SUCKERS!! *Lights desk on fire. Peels out of parking lot. Crashes into tree. In coma for next 2 weeks. Woken up just in time to have to write the next Pacific War Room*
GO CANADA GO!
TRH WILD CARD WATCH™
The only thing that makes me feel better about how awful the LA Kings have played lately is the Vancouver Canucks.

— The Royal Half (@theroyalhalf) February 9, 2014
The only question now is when will Calgary catch Vancouver?
Thanks to all the amazing Pacific Division Bloggers. Check back next Friday for another edition of Pacific War Room!
You can check out past editions of Pacific War Room here!