FLUBBER'S GAME OF THE WEEK: CHICAGO vs ST. LOUIS
Hey, you made it back to Flubber's Game of the Week, where we take a weekly look at the game to watch in the NHL.  Good for you.  We have a good one this week that you all will probably care about:
Significance
The Blackhawks and Blues currently sit first and second in the Central Division, respectively.  Chicago only has 13 total loses on the season (regulation and OT), and St. Louis caused two of them.  So, that's something.  That's thirteen total loses before January for the Hawks, who only lost 12 regular season games all of last season.  Man, this team sucks now!  They should have never traded Michael "The Missing Piece" Frolík.
All kidding aside, this series is considered somewhat of a rivalry (by St. Louis Blues fans who have never won anything ever).  These teams have been playing regularly since the Blues's inception in 1967, and the cities have always maintained a healthy sports rivalry diet, what with the Cubs-Cardinals, Browns-White Stockings, Bears-Rams, Bears-Cardinals, Cardinals-group of guys from St. Louis, Bulls-umm…Hawks(?) rivalries.
But none of that really matters, because both the Blackhawks and Blues have made horrendous holiday-themed video Christmas cards!  Let's critique each team's card, assign points, and decide once and for all which city is the greatest on the Eastern portion of Route 66.
Awful Team Holiday-Themed Video Competition
Let's start with the Blues's video, because the home team usually shoots first in the shootout.  Right?  I don't really pay attention nor care.
Ah, the 12 Days of Christmas.  That old chestnut.  Such a great holiday classic.  Why not do something secular that everyone would love?  Ah, but that wouldn't be the St. Louis way, now would it.
Oh, it starts innocently enough, though.  Chris Stewart sings, which gave me this reaction.
What a lovely singing voice, though.  Points for you, Stewart.
Then Barret Jackman kind of sings too, and he's in an ugly Christmas vest/sweater, which gave me this reaction:
Points for the sweater vest.  It takes a highly confused man to pull that off.
Next on the list is this guy.  Who is this?
I don't know who you are, and you can't speak English, and as an American that scares me.  GO BACK TO MEXICO!
Sin puntos.
"Four bobbing Pangers."  Some people love Darren Pang, and his totally not forced "Holy Jumpin'!" catchphrase.  That's cool if you think that.  I think he fits in well in racially segregated St. Louis.  That said, no points.
The Blues, and their fans, have some fascination with counting, but they are terrible at it.  I'll return to this later, but first let's talk about the player's serious counting problem.  First, we have Ryan Reaves talking about ten fists a-punching, when he clearly has only two fists.  Then Alex Steen leads you to believe that after a goal  six lamps a-light, when there are only two lamps in every NHL arena.  And finally,  Brian Elliott talks about having two goalie sticks, when Rule 10 of the NHL rulebook makes no mention of a goalie getting to have more than just one stick.
No points for these numerical mishaps, which the Blues may think means many points, so just don't teach them how to count and they will feel good about themselves regardless.
Jaden Schwartz, Barrett Jackman, Alex Pietrangelo, and Kevin Shattenkirk all wear the same hat.
That's bad form, Blues.
As an aside, I had to do extensive research just to find out who, like, 70% of these guys were because the Blues are so unmarketable.
* * *
Let's see if the Blackhawks Holiday video is any better (spoiler: it is).
The Hawks video starts with bonus points because it has that cheesy "Disney vault" style intro.  Well done.  It loses points, though, because this is a holiday collection that features exactly zero holiday-themed movie parodies.  For shame.
Marian Hossa does a pretty good Ben Stein impression from Ferris Bueller's Day Off, but I liked him better as Ferris's friend Cameron.
No points awarded.
Nick Leddy sounds less like Napoleon Dynamite, and more like South Park's impression of Charlie Brown in A Charlie Brown Christmas.  Points for the multiple degrees of separation just to stick with the holiday theme.
No, Sheldon Brookbank wasn't in Mighty Ducks.  Sheldon Brookbank doesn't even look like he knows where he is or what he is supposed to be doing.  Points for spontaneity.
Points to Antii Raanta for kind of looking like the "Get him a body bag" guy from Karate Kid.
Brandon Bollig was in a movie.  NO POINTS AWARDED.
Kris Versteeg sounds like every rapping white guy not named Eminem.  Points for white rapping.
They kind of fly through the last five or six, like they forgot a few guys or they're on an under three minute budget.  Despite that, nothing really stands out.  OH LOOK TOEWS IS WOLVERINE.  Pretty cool idea considering no one has ever made that joke before.  Frankly, I expected more out of you, Blackhawks Video and Marketing Departments.
Overall, the Hawks video is fairly cringe-worthy, and it looks like some players did not really care to do the whole bit more than others (looking at you Marcus Krüger).  But, as a holiday-themed…umm…thing…it is certainly different and more creative than the crap the Blues churned out.  Plus, it appeals to more than just those that celebrate Christmas:  Those that celebrate Christmas by going to a movie.  You lose again, Blues.  That old familiar pain…
Both of these videos make one thing certain: Europeans are seriously the worst actors in the world.
St. Louis Sports Video That Bares Repeating
#NeverForget
Prediction
Have you ever been to a Blues game?  They have this guy (random guy, looks homeless) that counts after each Blues goal.  Here's the setup: the Blues score, they play the goal song etc., this guy runs out of a tunnel in some random section and counts like Rene Rancourt did before game six of the Final last year.  They show him on the video board, and the entire arena counts with him.  There's a St. Louis education joke in there somewhere about counting and counting to high numbers, but that's low hanging fruit.  It's better just to say that the whole folly is probably worse than being antisemitic and leave it at that.
Chicago wins 3-2 in overtime.  St. Louis counts to two.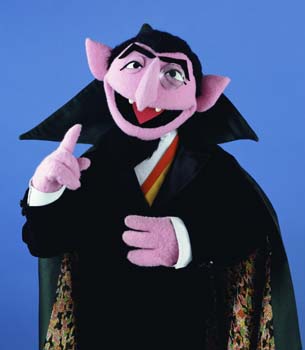 ah ah ah Two Goals ah ah ah