COORS LIGHT STADIUM SERIES™ JERSEY REACTION: PART 1
So the LA Kings and Anaheim Ducks were getting their very own Stadium Series jerseys! It was an exciting time, indeed.
But then the NHL unveiled its Chrome-themed logos…
It was clear that fans weren't impressed.
But the NHL didn't care what we thought.
They promised it would be EDGY.
IN YOUR FACE.
You've heard the expression, "let's get busy"? Well, this is a jersey that gets "BIZ-ZAY!
The fans pleaded, but the NHL just laughed and mocked us.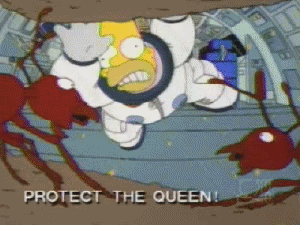 We just wanted the Kings to have their trademark logo.
…even though we never could decide which one that is.
It didn't matter though, the NHL was hellbent on creating a new, sleek design that was sure to disregard tradition(?) and chase revenue.
All we could do was hope they wouldn't screw it up too much…
Finally, the day came and we were all nervous, antsy and cautiously optimistic.
Members of #TeamTRH assembled outside of the jersey unveiling press conference.
EL SEGUNDO — Gary Bettman greets fans at the Los Angeles Kings practice facility.
Everyone was hesitant, but eventually we let our guard down to see what was created for our beloved team.
"Take that, style (and fans)," the NHL said.
Even the players weren't sure how to react:

Dustin Brown was the first to see, and subsequently unsee the horror.
Tanner Pearson, Tyler Toffoli and Linden Vey were all depressed in their own way.
The usually upbeat Justin Williams couldn't even hide his disappointment.
Even Dwight King's trademark smile vanished.
Mike Richards wasn't sure whether this was all some sort of prank.
Jeff Carter resorted to begging and pleading with the NHL.
And all Willie Mitchell could do was reach for the bottle and try to move on.
So fans did what they do best…
They panicked.
And drank heavily.
Then they argued among each other whether it was a half-decent jersey or not.
Some even tried to convince others that they really liked the design.
But in the end, we don't really care that much about a jersey that will only be worn once twice.
Especially since the Ducks jersey is 57 times worse.