Transcontinental Divide
As Los Angeles Kings founder Jack Kent Cooke once said in reference to the 300,000 former Canadians living within a three-hour drive of Los Angeles… "Now I know why they left Canada… they hate hockey." But tonight, at Staples Center, as the Toronto Maple Leafs were in town to battle the Los Angeles Kings in the Canadian Pride Night Winter Classic, I was actually excited to see an influx of our neighbours to the north come to the arena… as Canadians tend to be some of the most knowledgeable hockey fans around.
And then there was this guy.
Maple Leafs 3, Kings 2, Sky… Falling.
Click Here to Read the Rest of The Royal Half Recap!!!
So how does a franchise that has been embedded in the shadow of Hollywood for 42 years celebrate Canadian Pride? With giant fucking Air Canada balloons, that's how!

Air Canada is climbing in your windows, snatchin' up your statues.
We are all aware that, AEG, the American corporation that owns the Kings, has allowed Air Canada to sponsor the overtime period this season. But now… Air Canada is taking over our Wayne Gretzky Statue… and that's when it's time to fight back! Wolverines!!!

Brandon from Church of Eberle reminded me that there is one small difference
between the Gretzky statue in front of Staples Center and the one in front of Rexall Place.
So what can a fan expect to see as soon as they walk into America's version of Canadian Pride Night?
Cute girls in red Air Canada track suits.
Apparently, these young ladies were trying to take your picture so that they could create customized Air Canada luggage tags. You have to stick you head through a giant round green-screen and the rest was magic.
And voilá! Royal Half fan, Misha876, shows us the end result.
Because nothing screams national pride like novelty luggage tags.
But when a team from East of the Mississippi comes into Los Angeles, you know what that means…. awesome opponent jerseys! Keep in mind… this was a Los Angeles Kings home game.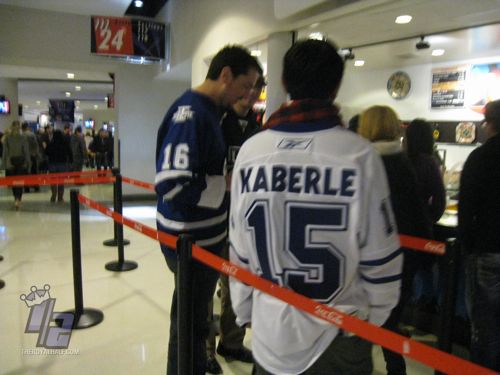 There was Tomas Kaberle…
… and Darcy Tucker.
Why do I get the feeling Tucker and Kaberle would never hang out in real life?
This guy just as easily could have been a Kings fan.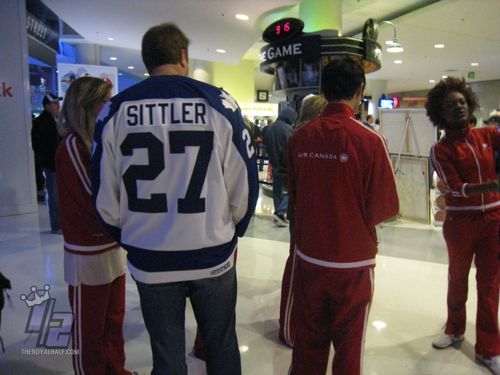 Wow, this guy's been waiting a long time for the Maple Leafs to be good again.
Eric Lindros.
Russ Courtnall, Wendel Clark and Joe Nieuwendyk.
Nieuwendyk played 64 games with the Leafs during his 1257 game NHL career.
What can I say? This guy just loves Canada in general.
But these were definitely the best uniforms I saw all night.
And how do Americans combat the wave of Canadian pride that was swelling up inside Staples Center? By some good ole-fashioned American gaudiness, that's how!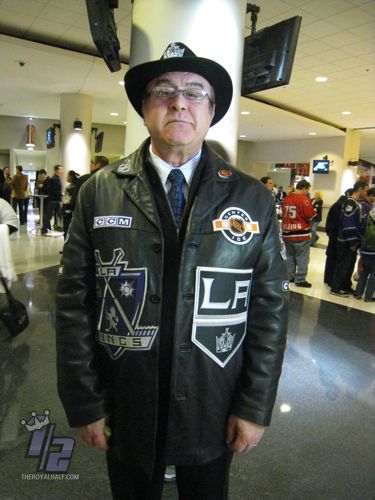 I don't know how many cows died to make Mr. Arva's amazing leather Kings jacket…
but next time you see him, you should let him know it was worth every one.
So how else do red-blooded Americans show the Canadians that we have way more pride than they do… even though this particular night was planned to honour Canadian Pride? By inviting the the first living person to receive the US Medal of Honor since the Vietnam War to crash the party, that's how!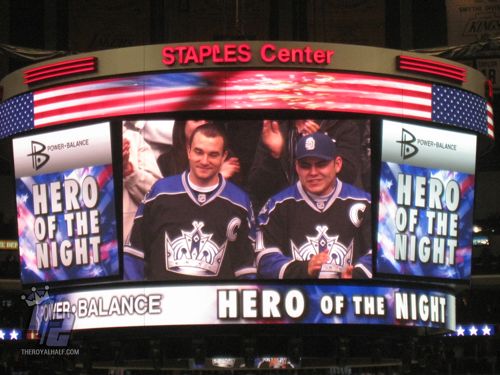 I don't know… I might have waited until "American Pride Night" to have Staff Sergeant Giunta be honored.
But that's just me.
After the ratio of Canadian Pride to American Pride had been evened out, the Kings Marketing Department returned to what it came to do tonight… give away free trips to Canada!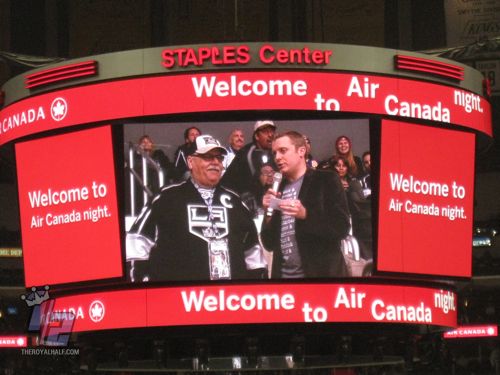 Why, what t-shirt is Los Angeles Kings in-house MC Jay Flats wearing? Why I do believe it's the Royal Half's own "Los Angeles Kings Goalies Since Kelly Hrudey" t-shirt! But I'm pretty sure that someone from the Kings Organization asked Jay to change shirts because later in the night I ran into him wearing his 2nd favorite Royal Half t-shirt.
And then Kyle Clifford, Wayne Simmonds, Ryan Smyth, Jarret Stoll, Kevin Westgarth, Justin Williams, Drew Doughty and Willie Mitchell showed their Canadian Pride by playing like absolute shit against the Toronto Maple Leafs.
"Don't blame me… I'm from Connecticut."
"Hey, asshole! You play for Los Angeles, not Canada!
If I see you wearing that goddamn Blue Jays hat one more time…"
"You see, Mr. Bettman, we have a state of the art arena and…"
"Tim, I was under the impression the Kings were an up and coming team. That's why I came here tonight."
"And if you look over there, you'll see that you can have a luggage tag made… with your face on it!"
Losers of 5 of their last 6 home games in the midst of a crucial 8 game homestand. Players underachieving left and right. A Head Coach that most fans are ready to fire. I think I liked it better when this Los Angeles Kings franchise had no pride and just lost almost every night. Oh wait… that's exactly what they are doing now.
Click here to check out The Royal Half's coverage of previous national pride nights such as Russian Heritage Night, Armenian Heritage Night and Latino Heritage night.