Rollercoaster of Love
I really don't know if I can handle too much more of this. It's been 1 week since the Los Angeles Kings started their first playoff series in 8 years, and I've travelled 2000 miles, seen 3 of the 4 games in person and have been in a constant state of panic and excitement the whole time. Being at the Staples Center last night was a mixture of leaping up and down while slamming my hand on the glass partition behind me… followed a few minutes later by slumping down in my seat while pulling my hat down over my eyes. Then, I'd repeat these motions. Then I'd repeat them again. That is the rollercoaster ride I was on last night. Playoff hockey is the greatest and worst thing you could ever wish on someone.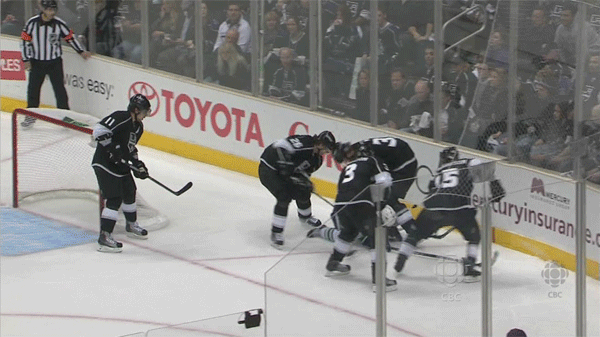 I think Friday night the Kings should start the game by doing this to Sedin.
(Awesome image from The Internet Trashcan)
Kings 4, Canucks 6, Series: Best of 3
What can you really say? That Kings team was as dominate as I've seen them be all season during the first period and a half. Instead of coming out hitting like they did last game, Vancouver was the hittee this time and again the Kings dared the Canucks to take a penalty. But then in the 3rd… the youth and inexperience caught up with the Kings and the Canucks showed just how good they could be. I seriously cannot wait for Friday night. To get an idea of what the pre-game festivities looked like last night at Staples Center… check it out after the jump!
I decided to head down to Staples Center a little bit earlier than I had for Game 3 so I could check out all the cool things that the Kings Marketing Department had put together for the pre-game experience. Last game they had balloons! But this time they had really outdone themselves!
I think it's kind of awesome that the stilt guy is wearing a Smyth jersey.
There were some big Drew Doughty fans in attendance as well.
Aww, that's cute. Davis Drewiske got his own huge player banner. 
Remember him? He's the defenseman that is apparently worse than Randy Jones and Peter Harrold.
Alexander Frolov and Oscar De La Hoya. They really go hand in hand.
Over at the Nokia Plaza, they had a bunch of events going on. Including a rare Southern California appearance by the Stanley Cup!
Or at least a real shitty replica of the Stanley Cup.
No, really. It was horrible. It didn't even have any fake engravings or anything.
The best part? The dude that was handling it wore the same gloves the real guy does.
And there was even a Beer Garden set up for fans to get a a pre-game beer and not have to deal with the ESPN Zone.
And I know that the players get a certain amount of tickets for friends and family, but Roberto Luongo went a little crazy last night.
Yes… Luongo party of 12?
These 2 guys are either the coolest Kings fans ever…
or a couple of hipsters that I want to beat the crap out of.
But those 2 guys weren't the only Kings fans who dusted off some old jerseys for the playoff game…
Steve Duchesne couldn't clear the front of a net if he was a Zamboni.
And I know we all assumed Dan Bylsma would someday be a Stanley Cup winning coach.
And inside the arena… well the game got most of my attention. But I have to say that Kings fans are definitely bringing their 'A' game when it comes to sign making.
Game 5 Friday. This is now a best of 3 series. As always, check out Benched Whale for their thoughts on the game. I'm trying to decide if I'm going to watch this game at home or out at a Kings watch party. It might be too much for me to watch in public. What say you, Kings fans? Where are you watching Game 5?